Boys Will Be Boyz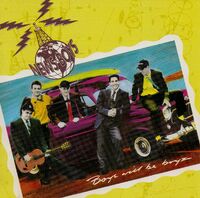 Released   -   August 6 or July 25, 1991
Recorded   -   1991, studio in Queensland, Australia
Length   -   40:33
Label   -   Star Song
Producer(s)   -   Peter Furler, Tony Miceli
Previous Album   -  Hell Is For Wimps
Next Album   -  Not Ashamed
Boys Will Be Boyz is Newsboys third studio album, released in 1991. It would be their last album before Steve Taylor started producing Newsboys albums, and this would also be their last unsuccessful album. A video titled Boys Will Be Boyz was released in late 1991, and featured a few songs from this album.
Track Listing
Edit
Radio Singles
Edit
Ad blocker interference detected!
Wikia is a free-to-use site that makes money from advertising. We have a modified experience for viewers using ad blockers

Wikia is not accessible if you've made further modifications. Remove the custom ad blocker rule(s) and the page will load as expected.