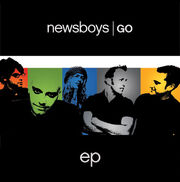 GO EP is an EP released by Newsboys as a sample for their upcoming album, GO. It was released on the iTunes store September 12, 2006 through Inpop Records. MusiChristian also offered these 3 songs to those who purchased GO in advance.
Track listing
Edit
Wherever We Go – 3:35
Go (I Wanna Send You) – 3:02
I Am Free – 3:58
Ad blocker interference detected!
Wikia is a free-to-use site that makes money from advertising. We have a modified experience for viewers using ad blockers

Wikia is not accessible if you've made further modifications. Remove the custom ad blocker rule(s) and the page will load as expected.