This article is about the compilation. For the song, see He Reigns.
He Reigns: The Worship Collection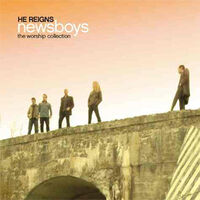 Released   -   October 4, 2005
Recorded   -   N/A
Label   -   Sparrow Records/EMI
Chart Positions   -  Top Christian Albums: #35
Previous Album   -  Devotion
Next Album   -  GO
He Reigns: The Worship Collection is Newsboys' second compilation, released 2005. It is different from other compilations Shine: The Hits and The Greatest Hits because, while they are collections of Newsboys' greatest hits, He Reigns is a compilation of Newsboys biggest worship hits, from their two recent worship albums, Adoration: The Worship Album and Devotion, as well as a few songs from their normal releases.
Track Listing
Edit
Ad blocker interference detected!
Wikia is a free-to-use site that makes money from advertising. We have a modified experience for viewers using ad blockers

Wikia is not accessible if you've made further modifications. Remove the custom ad blocker rule(s) and the page will load as expected.