Read All About It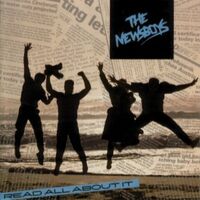 Released   -   Original: December 1, 1988

Re-Issue: January 1, 1993
Recorded   -   A Studio in West Orange, New Jersey
Length   -   38:25
Label   -   Original: Refuge Records,

Re-Issue:Star Song
Producer(s)   -   Peter Furler, Tommy Sims
Previous Album   -  He's Coming Back
Next Album   -  Hell Is For Wimps
Read All About It is Newsboys first studio album, released in 1988. It was their first and only record with Refuge Records, as they left when their next album (Hell Is For Wimps) was released. It had little success, and only more of that would come with their next two albums. The only radio single, I Got Your Number, had little or no airplay.
Track Listing
Edit
I Got Your Number - 4:42
Listen For the Shout - 3:18
Lighthouse - 3:15
It's Joy - 3:45
You're Still There - 3:03
Read All About It - 4:43
Hold On Tight - 3:53
Never Surrender - 4:07
The Big Time - 3:53
He's Coming Back - 3:46
Radio Single
Edit
Ad blocker interference detected!
Wikia is a free-to-use site that makes money from advertising. We have a modified experience for viewers using ad blockers

Wikia is not accessible if you've made further modifications. Remove the custom ad blocker rule(s) and the page will load as expected.